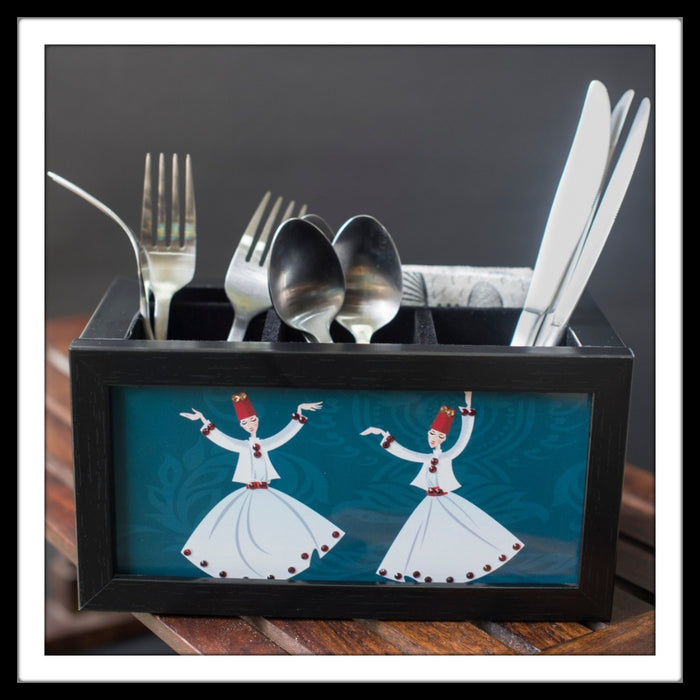 Dancing Dervishes Organizer
Organize your cutlery, organize your work table,
organize your life!!
Our lovely collection of Organizers is just perfect for the kitchen, study, office!!
Length : 9"
Width : 4 1/2"
Height : 4 1/2"
Twerling and Twinkling
What a beautiful piece of organizer!! I absolutely love this one. It has added charm to my dining table. Also, I fell in love with the packaging of the product. I totally love the collection by footprints forever and am so looking forward to their upcoming collection.
Hi Tina..
We love the Whirling Dervishes organizer as well. Thanks for writing the review.
Warm Regards,
Vandana
Elegance at it's best!
I love everything about footprintsforever!
Every time I visit the store,I find unusual things in very attractive and vibrant colors. The quality of work is excellent too.
This organizer,apart from being very cute can be used for various things. I use it for keeping all the remotes!
Would highly recommend this store to everyone who is looking for something unique, useful and bright.!
Organiser
I had been looking for a cutlery organiser for a Long time however couldn't find something that caught my eye. Then I chanced about the footprints forever site and fell in love with their designs of not just this particular product but others too . I have personally used their trays and coasters too and also gifted them to friends . Everyone asked me where I found such exquisite things!! Keep it up guys. Your products are very unique and each design is beautiful . Hard to choose just a few . All the best .