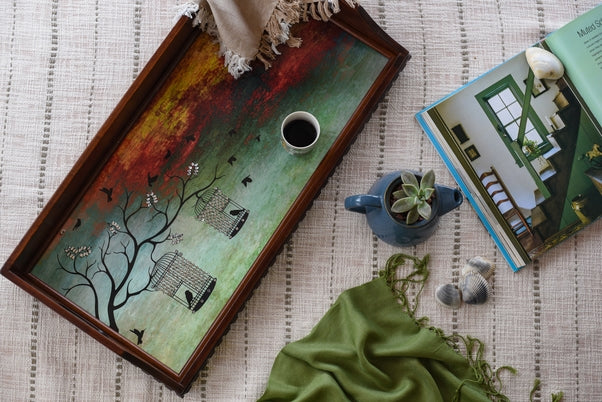 Multi-purpose Handmade Butler Trays
Nothing screams a lazy holiday more than cosying up in bed, coffee mug in one hand, a book in the other while a beautiful bed tray lies waiting for you with steaming idlis and perfectly toasted bread! Ah! The bliss of having an exquisite yet sturdy tray and bed table to make your mornings special. 
At Footprintsforever, we have a tray with bed tables made of pure rubberwood that comes with a removable folding option. The legs are detachable hence easy to carry this tray from the kitchen to the bedroom. Great for meals, snacks or just watching television, the two large handles make carrying this tray easy and comfortable and its sturdy wood makes it durable too.
The designs are so stunning, you really wouldn't want to put it away. With little imagination, you can use it for various purposes and not just as breakfast in bed trays.
Romancing your partner- breakfast in bed:
It's the little things you do that makes a relationship special. Who needs expensive gifts when you can show your love in thoughtful ways?  Letting your partner rest in the warm comfort of the bed while you offer her/him breakfast on our beautiful bed trays has a charm that spells romance. And well, if you don't have a partner, treat yourself to a sumptuous meal in our bed trays- only you do have to make the effort of getting it yourself. But once settled in bed, trust us, its all well worth it!
Binge-watching or binge working - Laptop table:
Aren't there times when you just don't want to get out of bed, make the effort of sitting on your chair to work? Our trays are perfectly suited for times like those! Designed with keeping this in mind, you can work without straining your neck. Just place your laptop on our bed tray and work, watch Netflix, play solitaire…whatever it is you desire without having to leave the comfort of your bed!
Dress your home- Design fixture(Trestle Stand):
Play with your imagination and use these gorgeous trays next to your low bed or diwan. Place some coffee table books, or candles and there you go! -  a beautiful space created that's classy and creative. The stunning design on our tray adds a striking element to your décor.
Wouldn't you want to impress your guests with zany ideas?   Place these trays anywhere, in any corner, even on a table or sofa, add your starters with dips or use as dessert tray, impress the guests and hear them talk about how effectively you have used these trays, adding its charm to the party.
Bookworms special- Reading table:
Why just for meals, use these trays to satiate your hunger for books! Reading in bed is made easier with these, more comfortable while you can also place your notebook pen or planner on it! And don't forget your mobile phone!
For those TV nights:
Calling friends for a movie night or that big game?  Fret not! Keep these trays loaded with chips and snacks, place them around you and watch the evening glide away smoothly.  Having amazing construction, Thus, the terror of tumbling the drinks and spilling it all over is eliminated.
Care instructions:
No extra care is needed. To ensure the long life of the tray, just wipe it with mild soap and warm water and the only thing to remember is to not overload it. Their versatility is almost unlimited. The choice is up to you. We are only steering you in the right direction. As perfect as it sounds for a romantic breakfast in bed, you are welcome to use it to pass drinks at a party, use it as a design element in your décor or any other creative idea you may have.