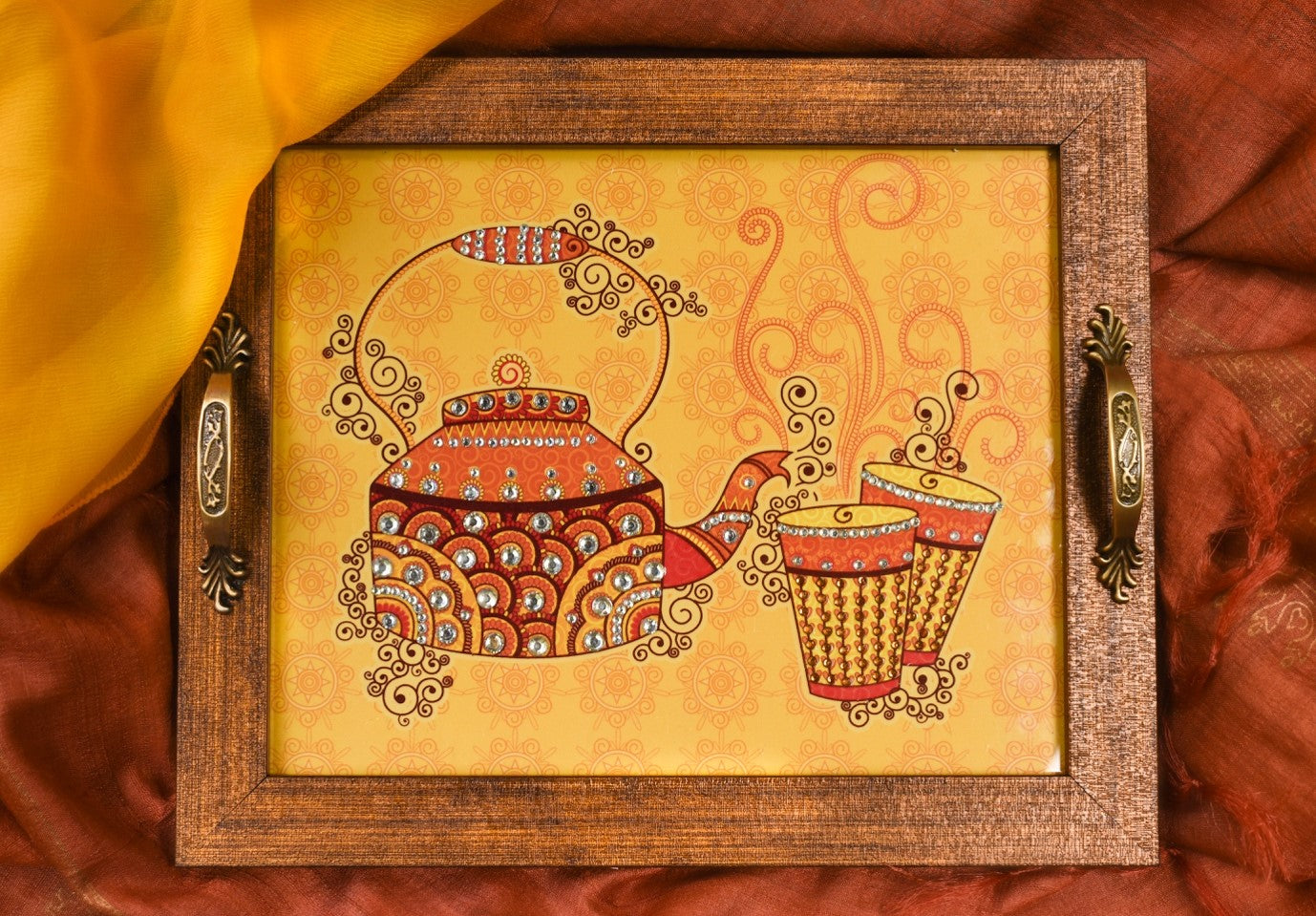 ART FOR DECOR
Beautiful walls adorned with intricate artwork surely liven up your living space. The art you display in your home is a reflection of you so why confine it to the walls? At Footprints forever, we strive to bring our Indian folk art to your homes, not as an expensive piece of art that you admire from a distance but as a part of your everyday routine, you can talk about, enjoy and be proud of!
Traditional arts like Pichwai, Warli, Mandala and African art printed on your home accessories make for a good conversation starter amongst your guests and also enhance your home.
For instance, the Indian traditional art form of Pichwais has been seeing a steady and increasing revival in the past few years. The popularity of the elegant style is defined by its unique colour palette and fine details. The multiple, linearly laid cows are one such version and are also the most popular symbolism from Krishna's devotionally depicted world. Taking inspiration from Pichwai, we have taken elements from this beautiful art form and created prints to make stunning trays and wine boxes.
Similarly, at Footprintsforever, we also use Warli art to give a traditional flavour to our pieces. Warli is one of the oldest forms of Indian folk art and has its origins in the Warli region of Maharashtra. This form of tribal art mainly makes use of geometric shapes such as circles, triangles and squares to form numerous shapes depicting life and beliefs of the Warli tribe. Our Warli printed trays give you the opportunity of bringing home an inspired version of this art form.
The African motifs printed on our coasters reflect the cycle of life in tribal Africa. From birth, through initiation to adulthood, to death and finally becoming an ancestor, it shows how well they integrate nature in their religious ceremonies and daily household chores! Each piece brings you closer to Africa!
The Mandala inspired wall clocks are a perfect gift for your guests, or business partners. Its akin to gifting them a piece of art, just perfect for a peaceful office or home environment.   A mandala is a spiritual and/or ritual geometric configuration of symbols in Hinduism, Buddhism and Jainism. In modern, typically American use, "mandala" has become a generic term for any diagram, chart or geometric pattern that represents the cosmos metaphysically or symbolically—a cosmic diagram that shows us our relation to the infinite, the world that extends beyond and within our minds and bodies. Mandala boxes and clocks at Footprints Forever are a sure heart winner!
At Footprintsforever, we bring these art forms alive in your homes in a unique way.  They are so special and beautiful; you are sure to have guests admiring them and wanting to take them home. The trays are multipurpose- can be used to serve your snacks or drinks or can be placed on your coffee table with candles and let the art speak for itself! These art-inspired printed décor items even without the knowledge of the heritage that they bring in, make for some delectable décor pieces. These gorgeous pieces of traditional art totally appeal to our sensibilities and you can be creative about its usage too.  They present a whole gamut of possibilities when it comes to making your home look stunning. It is up to you to explore their potential. You want a home and not a house, a home that you have lovingly put together, that shows who you are and that speaks for you. The art in our décor pieces do just that!